Posted by Superior Custom Linens on May 24th 2019
---
White Bathroom
Design Inspiration Ideas
---
Find out how to create a sparkling white bathroom, from minimalist design schemes to farmhouse-inspired space.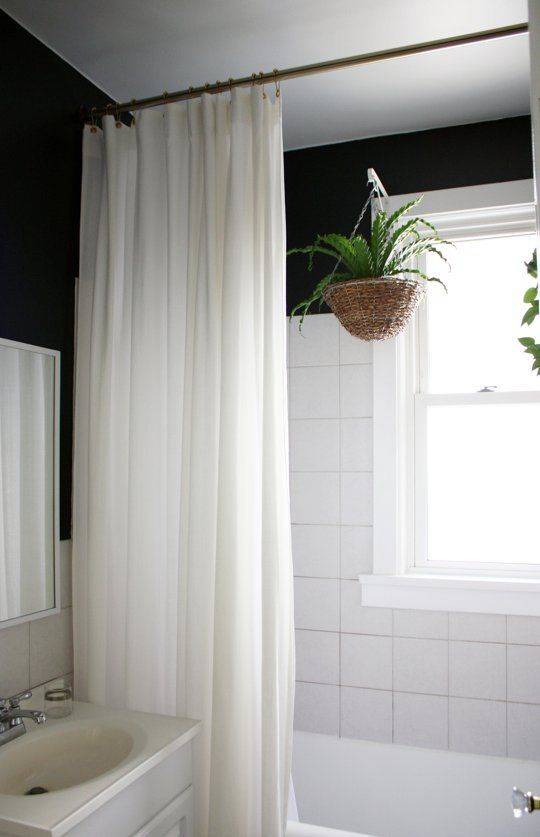 Fresh White Bathroom with White Shower Curtain and White Vanity
White tile walls and white vanity in this bathroom create a simple and clean look. Install a fresh white shower curtain will open up the space. We recommend fabric shower curtain over plastic one for richer and elegant look. Especially the shower curtain made out of pure linen, which offers nice texture, wide range of color/pattern choices, machine washable, and drys 3X faster than other fabric choices.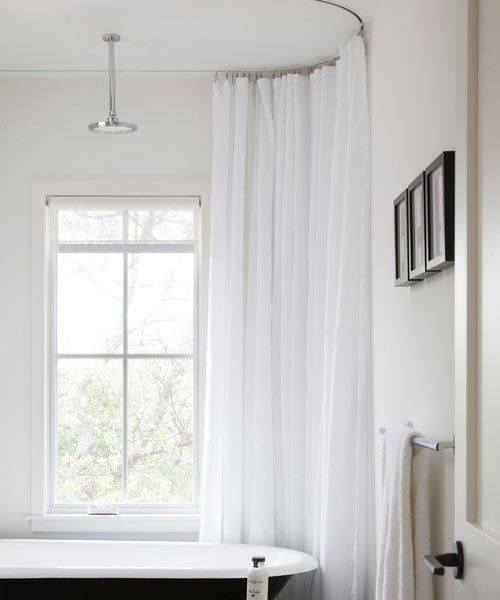 White Oval Shower Curtain with Clawfoot Tub
By putting the white shower curtain in a ceiling track rod over the freestanding clawfoot tub create a high ceiling illusion.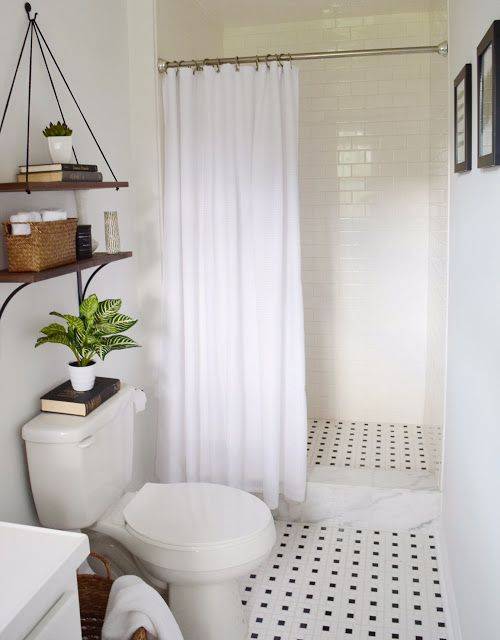 Black and White Bathroom with Wood Accent, Modern Farmhouse
To make your bathroom bold, go for contrasting colors. Black and White floor tiles bring back the classic style. White shower curtain , wood shelves are classic modern farmhouse elements.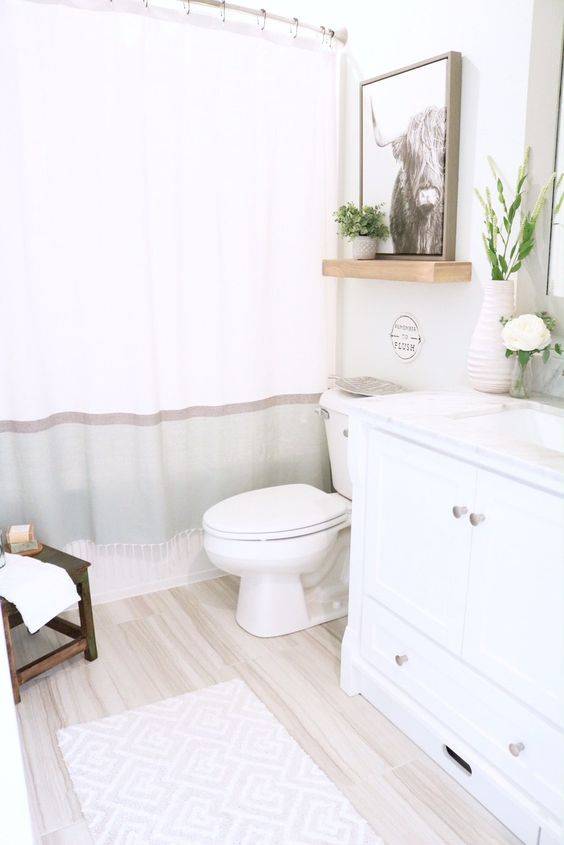 White Vanity, Color Block Shower Curtain, Wood Tile Floor
Wood tile floor provide a prefect setting for the white vanity and color block shower curtain to pop. Floating shelf, green plants add nice touch for the farmhouse bathroom decor.
Mix and match for the perfect color combinations in your bathroom, checkout all the color choices here.
Contrast Color Block Shower Curtain, Antique black Fixtures on White Vanity
Contrast color block shower curtain and antique black fixtures provide all the contrasting this bathroom needs to be stylish. and white subway tile, a wood tile floor set the room aglow.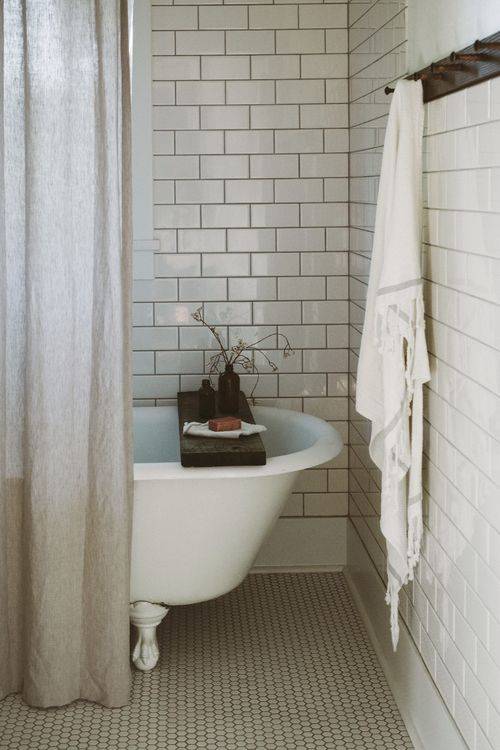 White Subway Tiles, Natural Linen Extra Long Shower Curtain
Play up your white subway tile with a natural linen shower curtain. The natural flax linen offers rich and distinctive texture, it will hold up to years of use with wonderful durability. Being 100% linen, it drys so fast that keep mildew away.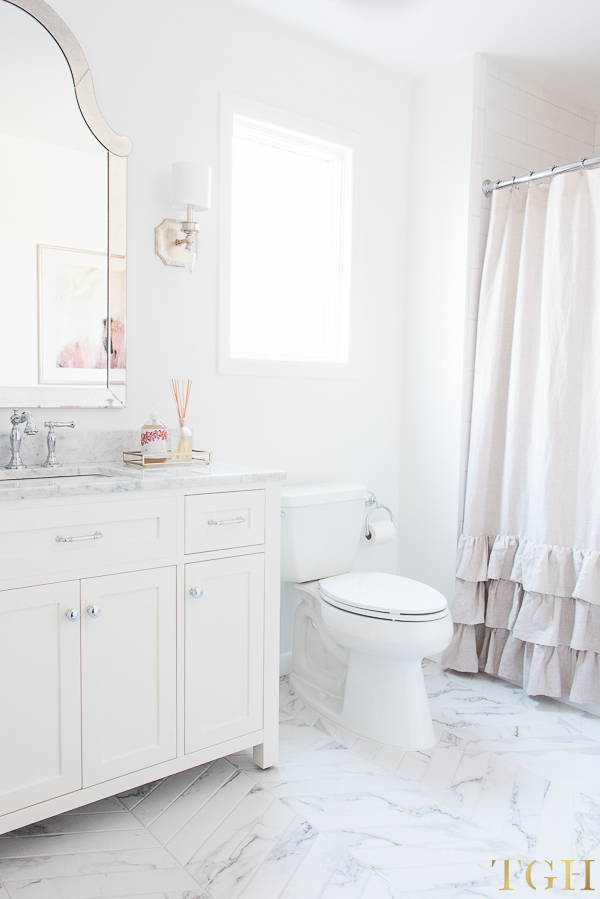 Arched Mirror, White Marble Tiles, Ruffle Shower Curtain
Finding the right mirror can immediately draw attention and make a statement piece like this arched mirror. The off white vanity complement the crisp white walls, chevron marble tiles floors add an element of fun. The linen ruffle shower curtain gives off a cozy and luxurious vibe.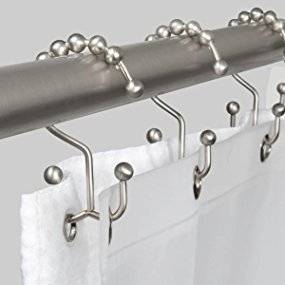 Shower Curtain Liner
When using the fabric shower curtain, we recommend using the waterproof vinyl liner with it. They can be washed in a washing machine, add some vinegar and bingo, good as new. With the double roller glider shower curtain hooks, you can hang the liner and curtain separately while staying on the shower rod.
At SCL, we custom make the liner in the same size as the linen shower curtain.
Shower Curtain Measuring Guide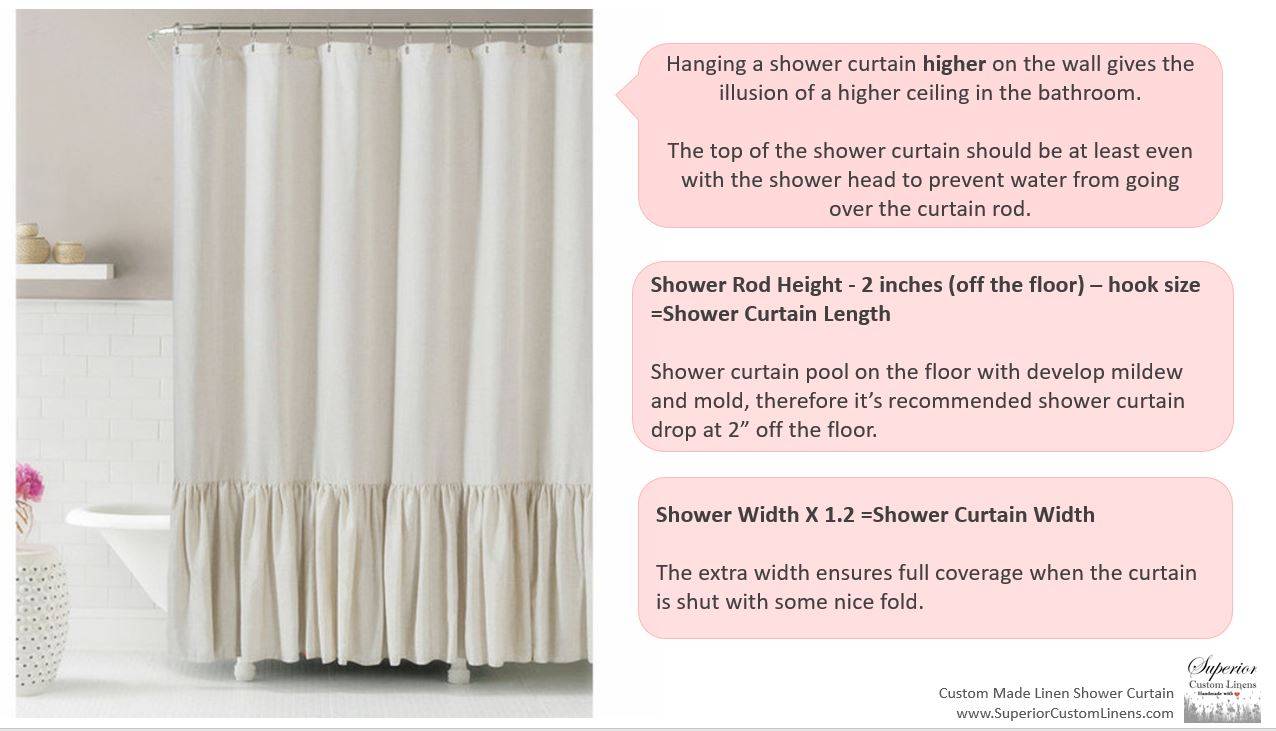 White Linen Shower Curtain
About Superior Custom Linens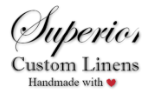 Superior Custom Linens was built on the idea that home furnishing should be exceptional in comfort, quality and style. Featuring exclusive handmade bed linens and home goods, designed and crafted in Texas - Superior Custom Linens provide heirloom craftsmanship year around.