Posted by Superior Custom Linens on Jun 7th 2019
Transform Your Bedroom from Drabby to Shabby
---
15 Classic, Modern, Shabby Chic Farmhouse Bedroom Design Ideas
---
We all have that one space in our homes that is neglected with regards to décor and for many of us, that space is the bedroom. With so much focus on other areas of the modern home, we often lose sight of just how important our bedrooms actually are. Our bedrooms are our sanctuaries; they need to be comfortable, functional and at the same time, stylish. Classic, modern, shabby chic and farmhouse furniture and decor can transform our drab bedrooms into fashionable and functional rooms that are easy on the eyes, and it's not as hard as it seems. We will provide 15 Classic, Modern, Shabby Chic, and Farmhouse ideas that you can use to recreate the most important space in your home.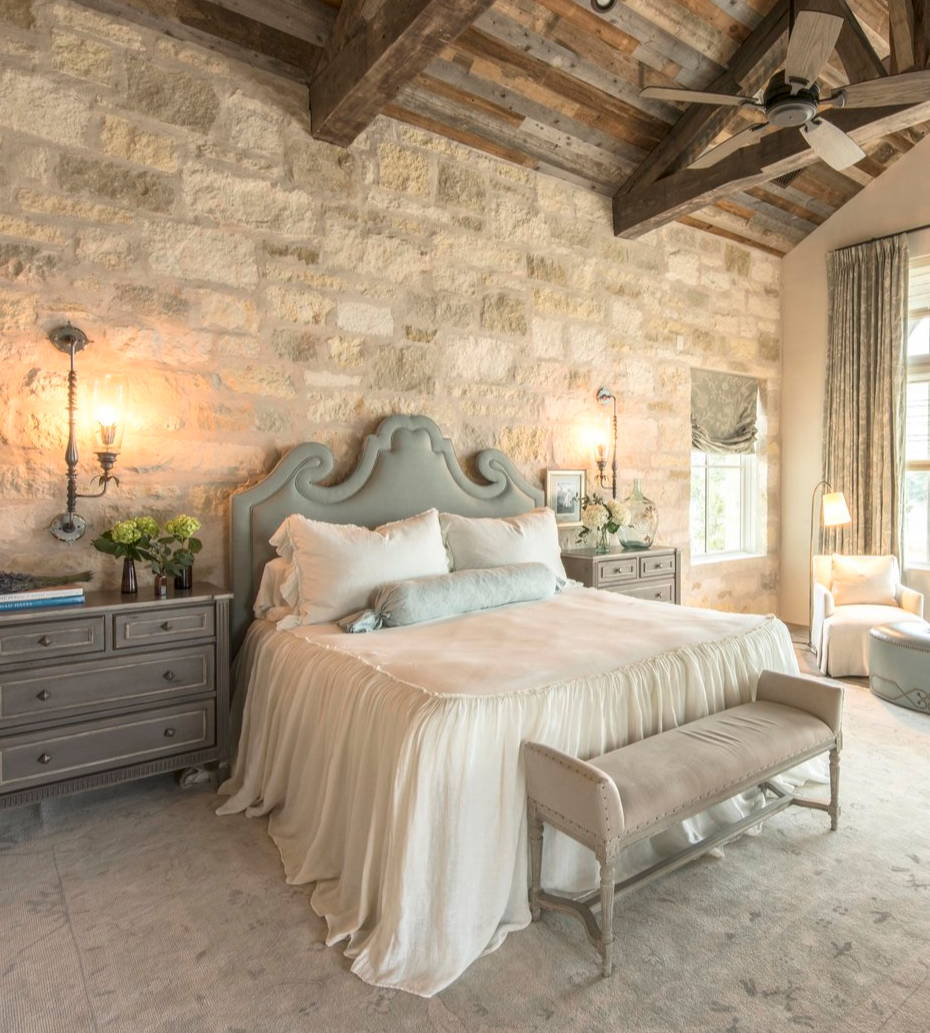 Using mild earth tones and farmhouse lighting, this bedroom is both inviting and creative; combining retro accents with modern accessories. This white linen bedding is draped eloquently to the floor. A sage green upholstered headboard, drapery, and an upholstered bench pair perfectly with fashionably rustic dressers to complete a bedroom that is both stylish and functional.
Shop the look: White linen bedspread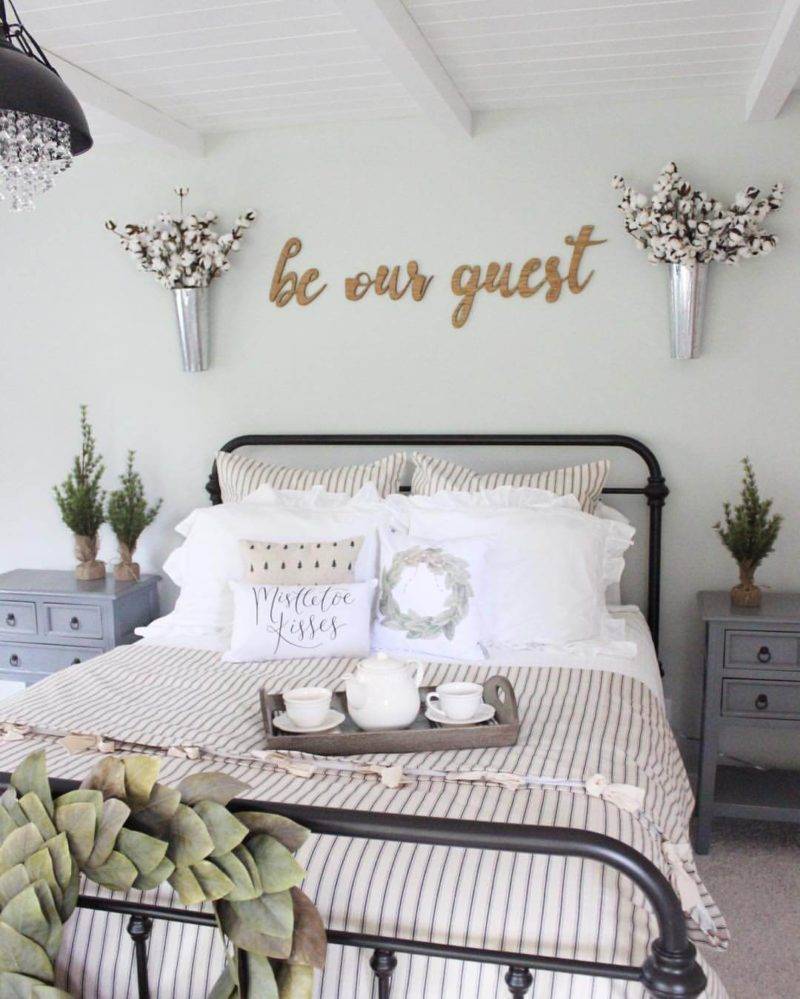 Nothing helps wind down a long day quite like a farmhouse country bedding set. This bedroom uses a darkly shaded iron bed to contrast the white linen with grey striping. A serving tray and an old-world tea set provide the feel and function of a French bistro while still providing a timeless, country farmhouse charm.
Shop the look: Iron white ticking striped duvet
This dreamy getaway uses a combination of rustic accents, farmhouse bedding, and a natural linen-colored throw to pull of that comfortable appeal. The pillows and shams contrast the grey linen duvet cover, and a rustic bench and a weathered wood framed mirror add a tasteful touch of shabby chic to the space.
Shop the look: Medium Grey Linen Duvet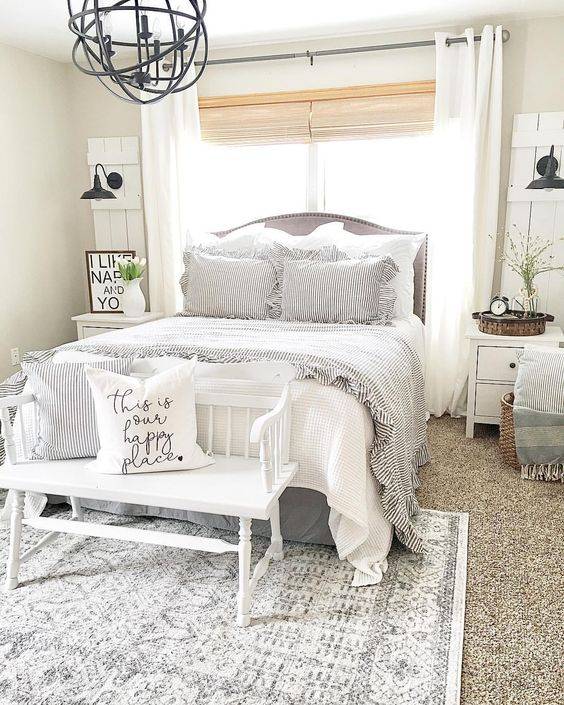 This shabby chic bedroom has a timeless appeal while still managing a modern style. A palette of whites is used to offset the beiges and greys in this stylish farmhouse bedroom. Simply shabby chic bedding accents the white bench and the Persian rug below. Window shutters complete with repurposed sconces pairs perfectly with the wrought iron chandelier in the middle of the room.
Shop the look: Grey and White Striped Linen Ruffle Duvet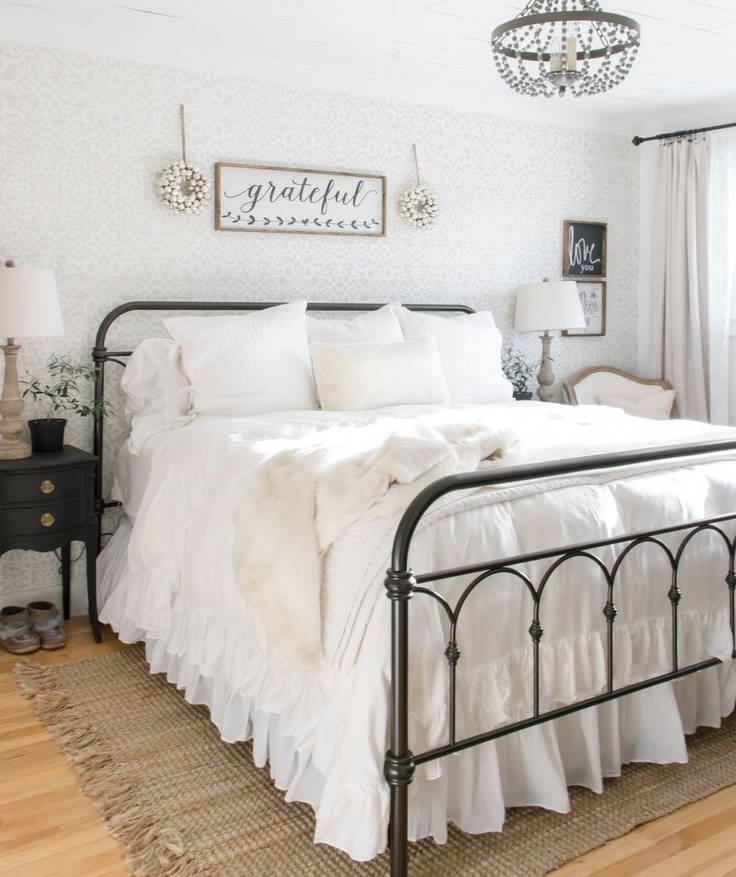 This is another great example of a wrought iron bed contrasting white linen bedding. A ruffled linen duvet and bed skirt add a touch of shape and contrast to the textured rug below. Simple wall décor is sure not to detract from the beautifully papered walls. Along with a pair of lamps atop matte black nightstands, a rustic light fixture placed directly over the bed illuminates the space.
Shop the look: White linen Ruffle Duvet,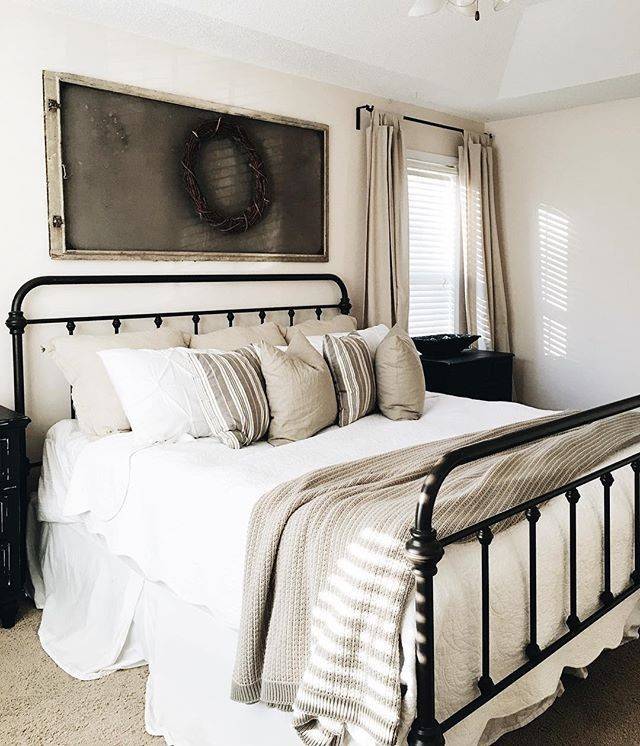 This nighttime sanctuary is easily achieved with a wrought iron bed, quilted white bedding, and neutral-toned linens throughout. Plush pillows and patterned throws line the head of the bed while the wrought iron pairs nicely with dark night stands. A simple yet powerful picture above the headboard offsets the white walls encompassing the space; a grand addition to any bedroom.
Shop the look: White Linen Bed Skirt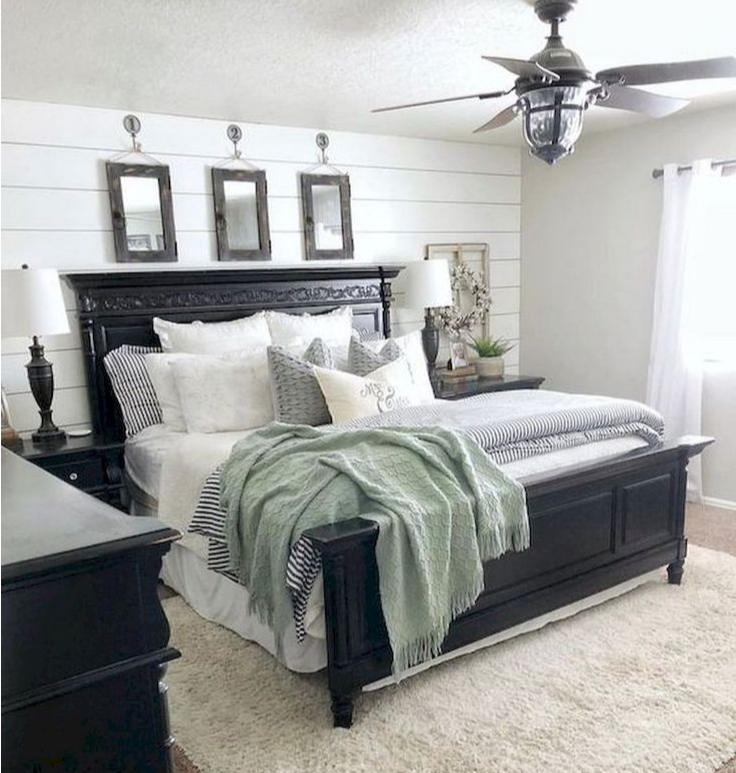 This stylish suite uses a white, repurposed plank wall as a backdrop for a black panel bed fitted with rustic bedding and striped accents. The wall décor is purposefully simple and a ceiling fan with a wrought iron light globe keeps the room cool in every season. Shaded lamps and sheer window treatments offer just the right amount of lighting to end the night or start the day.
Shop the look: Slate and White Striped Duvet
This bedroom uses subtle shades of pastels to add a bit of color to the space; a rustic bench in a medium shade of sage and a mild blend of pink and mint-colored throws. A planter and a repurposed window pane offer that sense of rustic style while complimenting the white panel bed and shabby chic linens.
Shop the look: Ruffle Linen Shams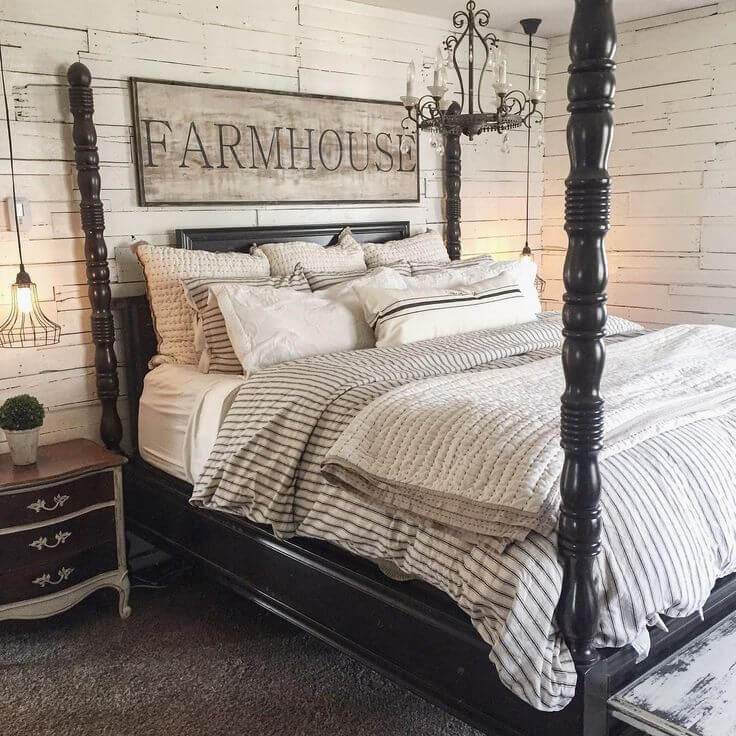 This cozy master chamber is both warm and inviting, using industrial pendant lamps and a baroque shabby chic chandelier to light the room. A traditional bed with turned posts is fitted with a striped linen comforter and patterned throws. A two-toned night stand and farmhouse wall décor accentuate the reclaimed wood wall. This bedroom is both elegant and charming with a unique farmhouse décor.
Shop the look: Striped Linen Duvet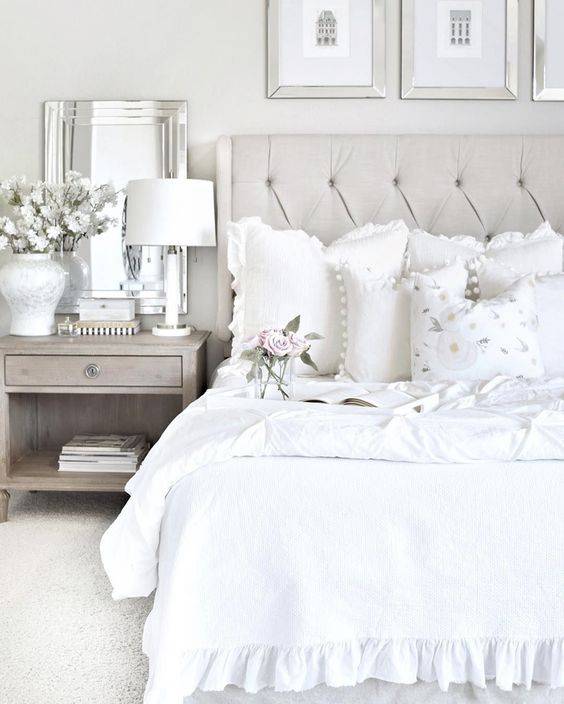 This pristine palace is befitting of a fairy tale, yet it effortlessly maintains its function. A light toned nightstand adds style and storage, and the polished silver mirror above allows for those last minute adjustments before we head out for the day. White ruffle bedding, pillows with ruffled edges, and a serving tray complete with a white rose in a vase set the mood in this modern room that speaks for itself.
Shop the look: White ruffle linen bedding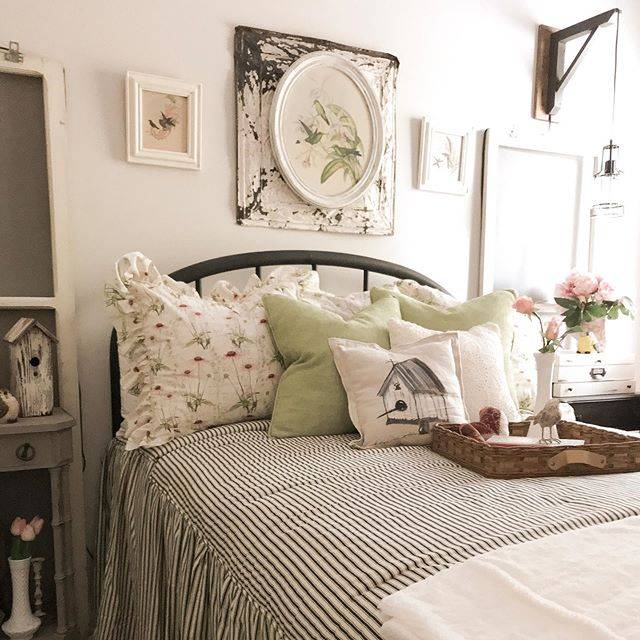 A teens private space, this room is complete with an industrial pendant lamp, shabby chic wall décor, and a basket weave serving tray. The striped linen bedspread with a subtle green and the shams borrow a floral pattern from the wall décor above. Notice the birdhouse on the nightstand – and the bird on the serving tray; a close attention to detail serves well.
Shop the look: Striped Linen Bedspread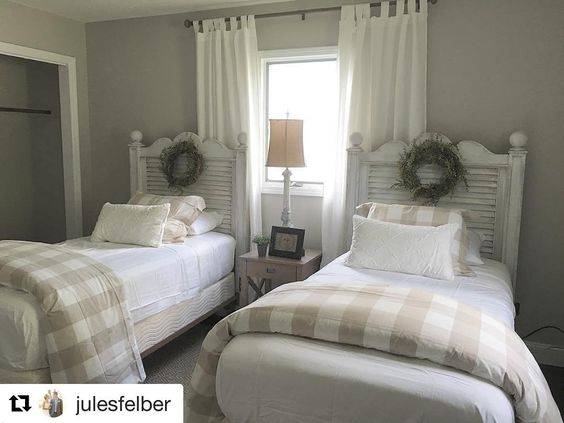 The children's bedrooms can be a great place to insert a hint of farmhouse décor. Children love style and comfort just as much as adults, and sometimes even more. Matching farmhouse panel beds, white farmhouse bedding with buffalo linen check comforters and shams is a simple but effective design element that brings this twin bedroom decor to life.
Shop the look: Buffalo Check Linen Duvet Cover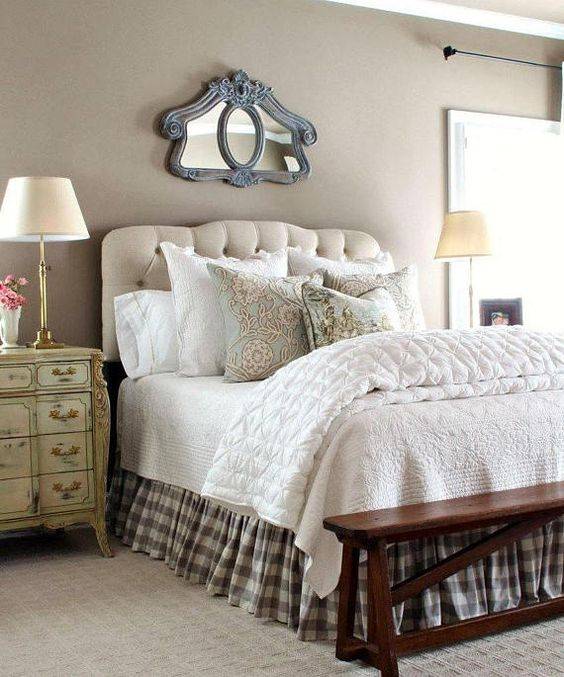 This is another great example of how implementing subtle classic design elements can make a children's room a very special part of the home. A tufted headboard, a French dresser, and a quilted comforter make great additions in any bedrooms needing an upgrade. The buffalo check linen bed skirt, , the floral shams, and the wooden bench add just the right amount of fashion and function to make this bedroom functional and fashionable space.
Shop the look: Buffalo Linen Check Bed Skirt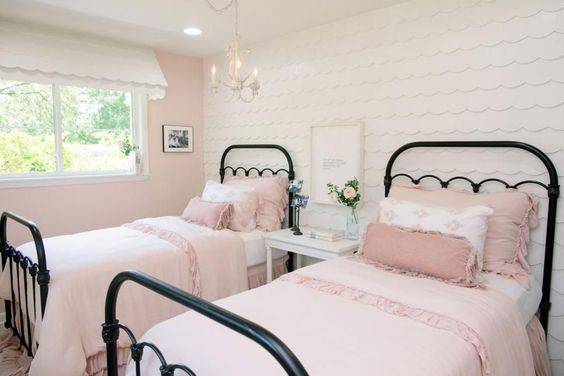 There's nothing wrong with using pink to offset a pair of wrought iron twin beds. The wooden wall in a shingle pattern works well with purposefully simple wall décor; the shabby chic chandelier is a perfect fit for the awning above the window and the white nightstand between the beds below.
Shop the look: Dogwood Pink Ruffle Duvet
Whether it's a children's bedroom or a master suite, try a subtle touch of modern, classic, shabby chic, or country design elements to transform your bedroom from drabby to shabby!
About Superior Custom Linens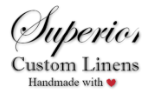 Superior Custom Linens was built on the idea that home furnishing should be exceptional in comfort, quality and style. Featuring exclusive handmade bed linens and home goods, designed and crafted in Texas - Superior Custom Linens provide heirloom craftsmanship year around.