Posted by Superior Custom Linens on Jul 18th 2016
Our Self Ruffled duvet cover offers a touch of subtle elegance not often found in other leading brands. Imagine having something this exquisite gracing your bed! Made of natural linen, our Self Ruffled duvet cover is not only lovely to look at but is soft, breathable, naturally hypoallergenic and bacteria resistant. Every ruffle is hand-stitched with careful precision, and its luxurious appearance belies that fact that it's exceptionally durable with an impressive ten year+ life span. Machine-washable and easy-to-store makes it an outstanding choice for all discriminating customers.
Nothing equals the perception of fresh breezes on spring day. With an air of simplicity, our Classic White Ruffle Duvet Cover is both graceful and practical. Its softly flowing ruffles are incredibly inviting and add a serene, romantic touch to any bedroom.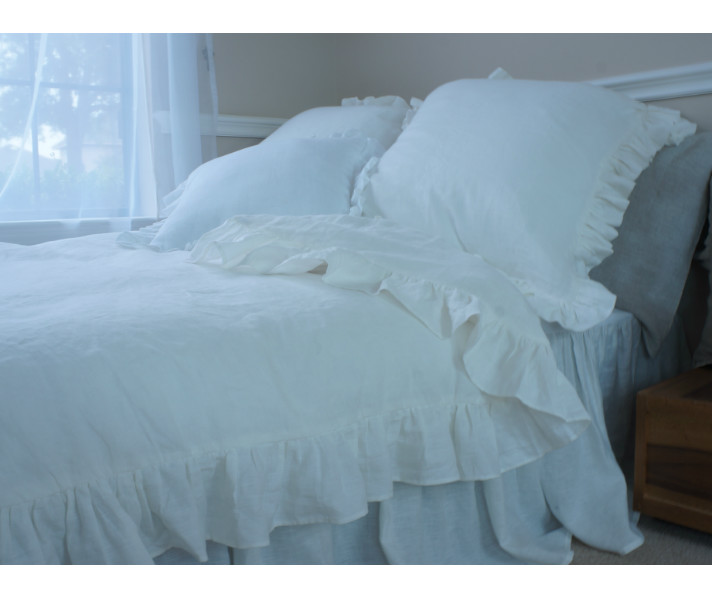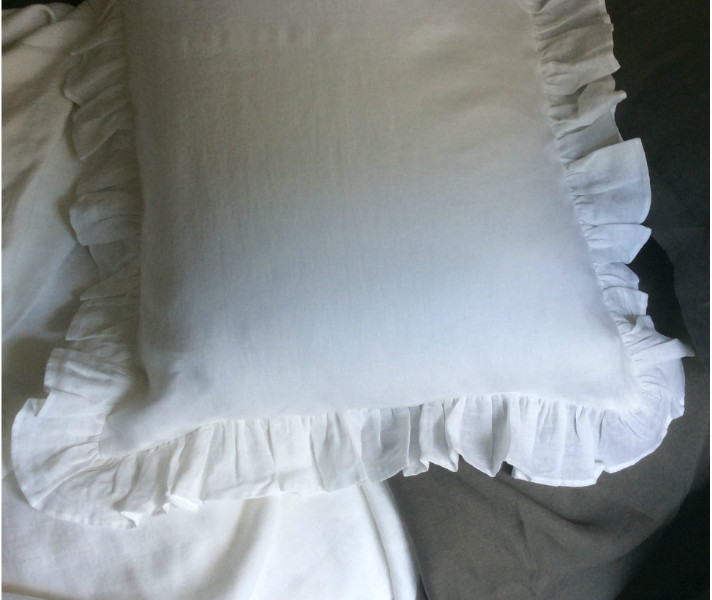 Stone Grey Ruffle Duvet Cover
Our Stone Grey Ruffle duvet cover emanates sophistication and class. With its edging of soft ruffles, it invites calmness and composure at the end of a stressful day. Compatible with the shabby chic look, it is a perfect choice for those who are drawn to subtle elegance while yearning for a quiet retreat.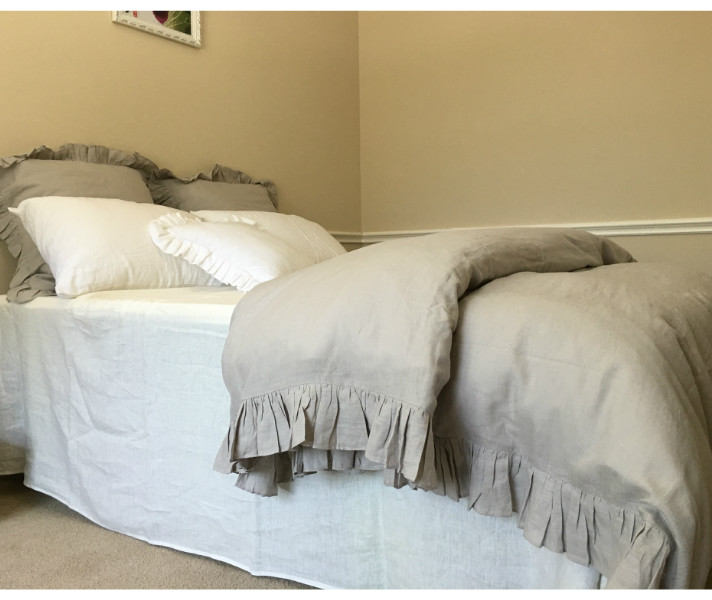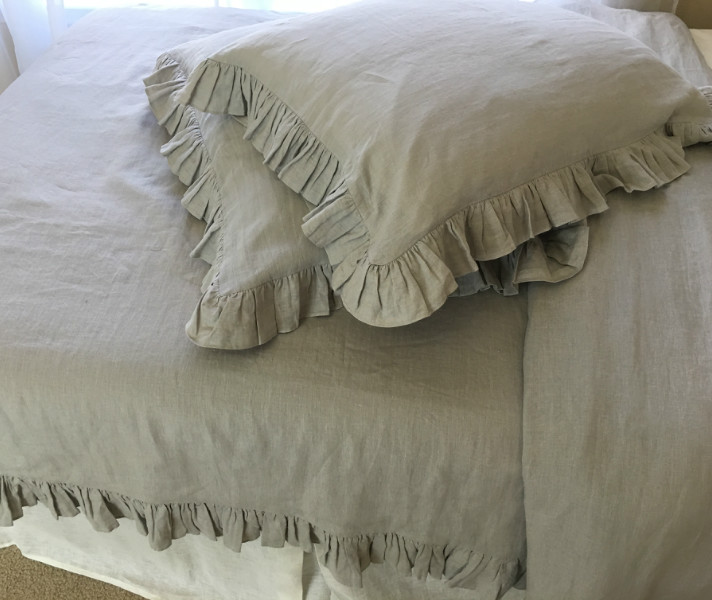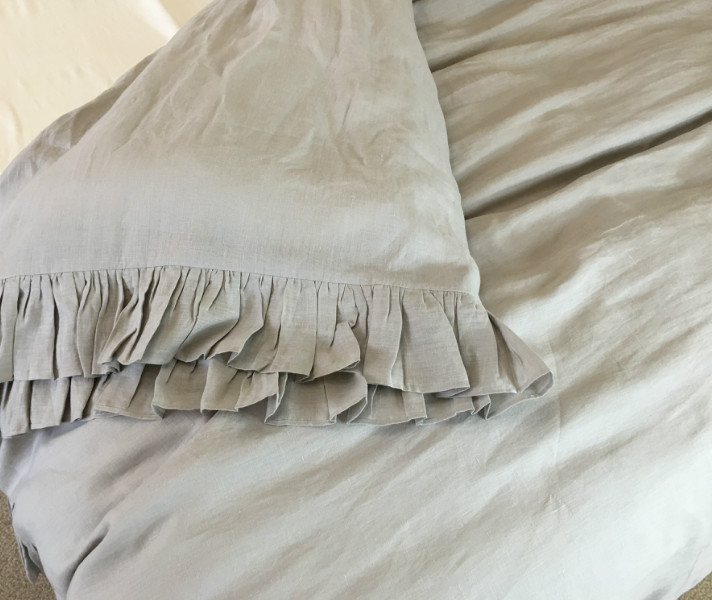 Blue Ruffle Duvet Cover
Imagine a seaside resort with blue skies, sparkling blue waters and the sound of gulls. Peace and tranquility are signaled by our Blue Ruffle Duvet Cover. Yarn dyed for long lasting color, our blue linen is both restful and refreshing. You will find yourself waking up with restored energy and clarity of mind.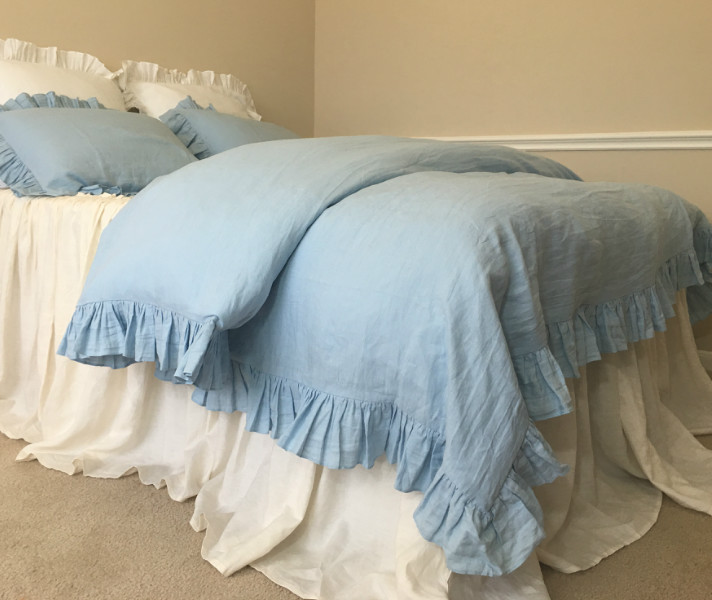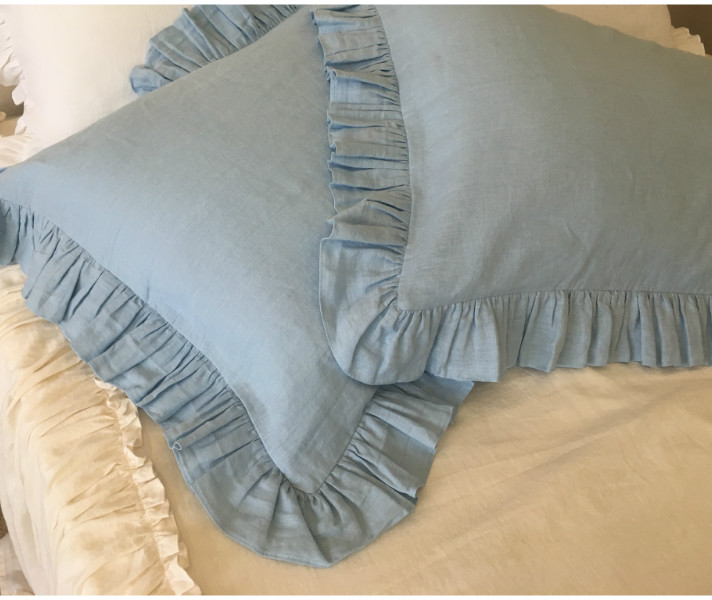 Pink Ruffle Duvet Cover
Just like the tender color of a pink rosebud or the inside of a shell, our Pink Ruffle Duvet Cover is a gentle reminder of the power of love and compassion. It is embracing and accepting and hints at femininity. Our 100% prewashed linen is soft and cool to the touch yet brings warmth when it's needed. It's hard to imagine that something this lovely is so easy to take care of and simple to store.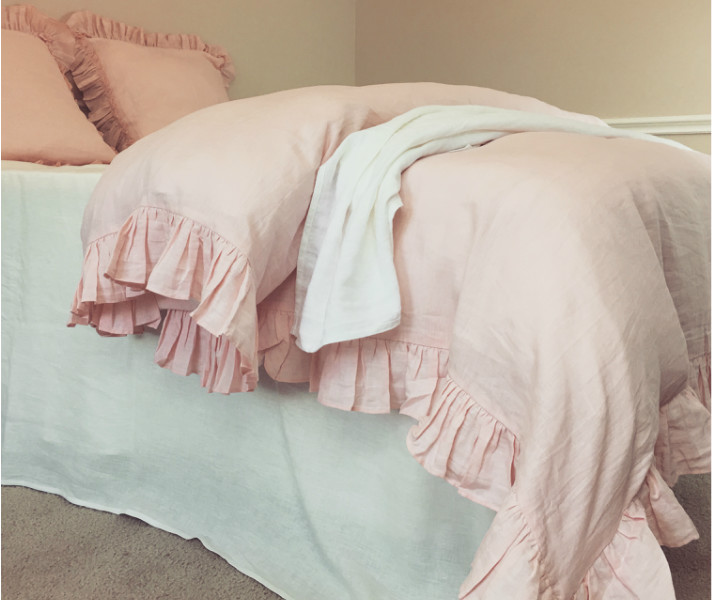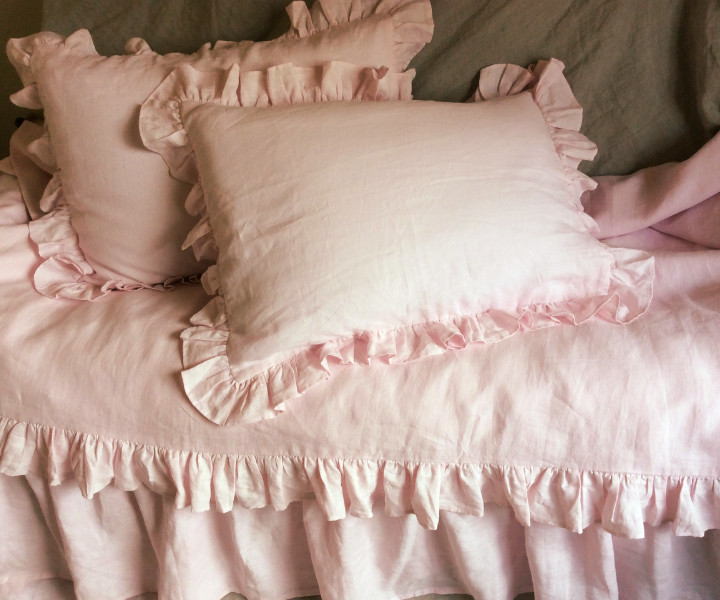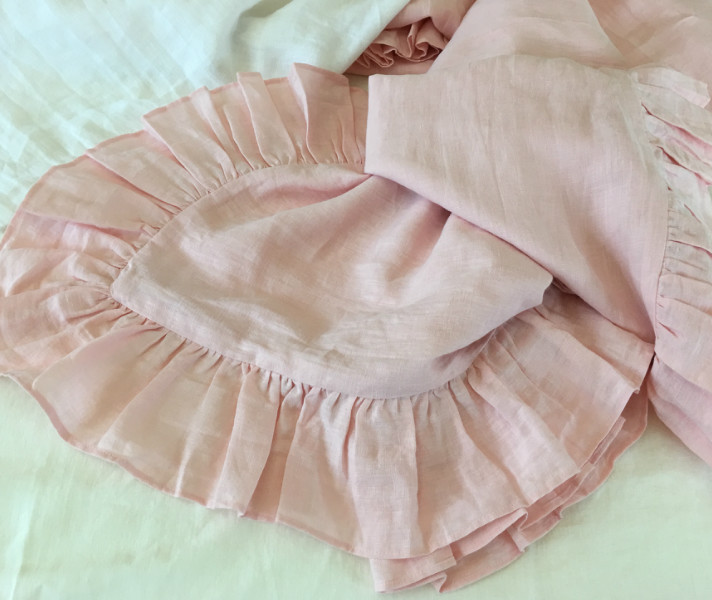 Soft White Ruffle Duvet Cover
Our Soft White Duvet Cover has a slightly more muted tonal quality than our classic White Duvet Cover.Its subtle simplicity resonates with comfort and practicality. Eco-friendly and healthy, it's the perfect choice for those who value our connection with nature and treasures its gifts. Handmade with loving care, it is a testimony to true craftsmanship.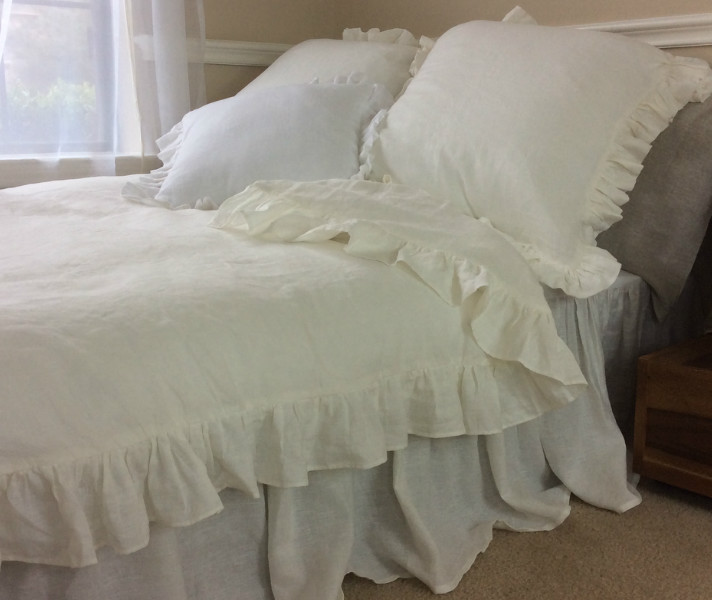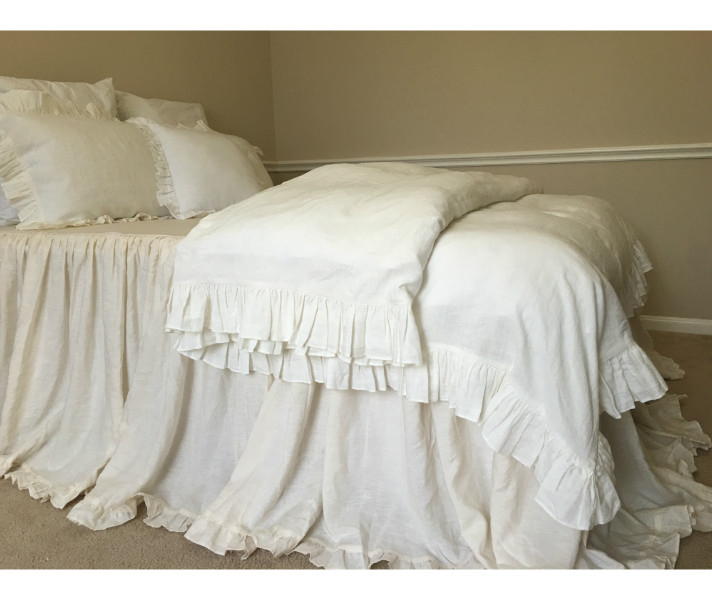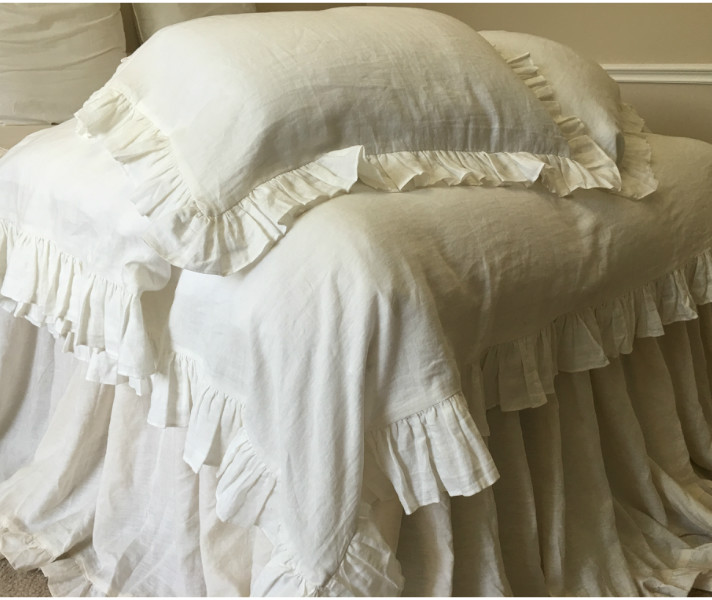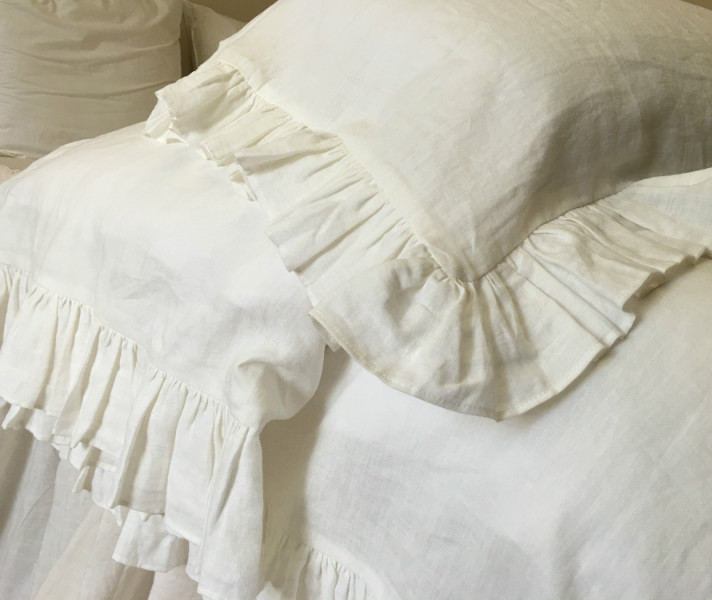 Industrial Rustic Grey Ruffle Duvet Dover
Industrial Rustic Ruffle Duvet Cover sounds like an oxymoron, but actually it isn't. There are those of us who value the qualities of order and practicality associated with the deeper colors of grey, but we also value the joy and simplicity of rustic living. Whether you envision living in a loft or a country cottage, our Industrial Rustic Ruffle Duvet Cover is a perfect blend of both.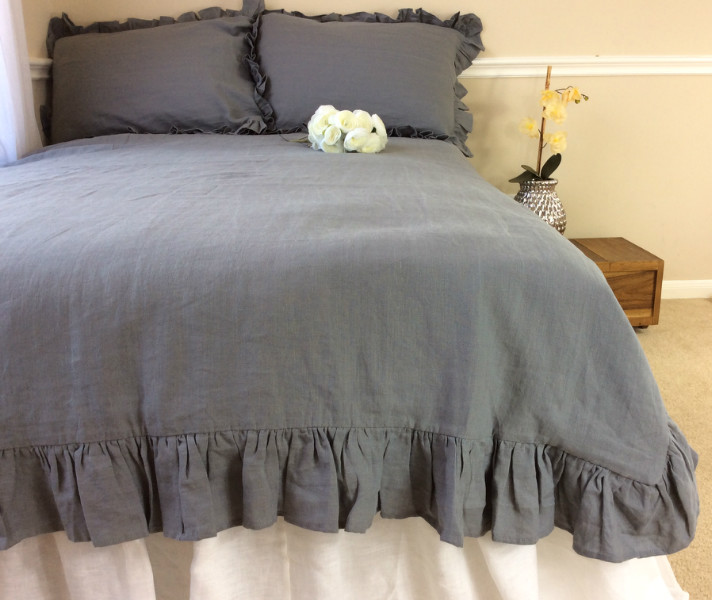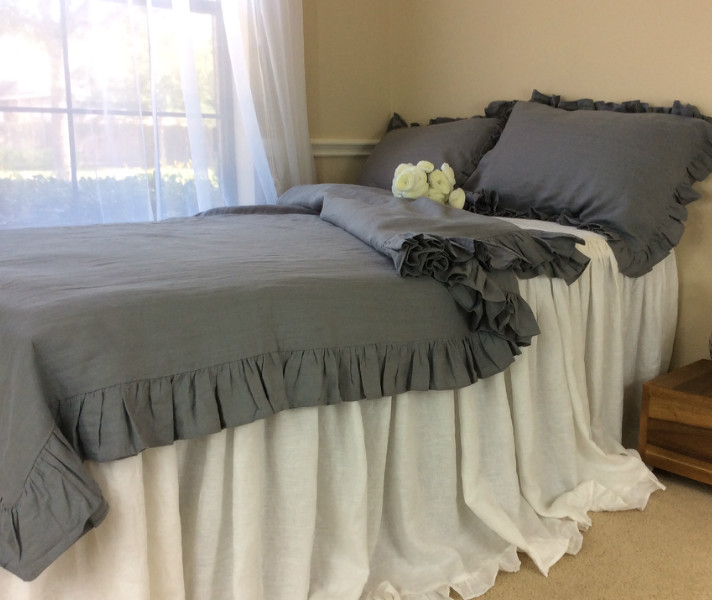 Natural Linen Ruffle Duvet Cover
If you have sensitive skin or simply want to minimize your exposure to impurities, our Natural Linen Ruffle Duvet Cover is perfect for you. Imagine sleeping under a duvet cover that has absolutely no dye or coloring and is naturally hypoallergenic! Prewashed, it just gets softer and softer with use. Even with frequent laundering, it will continue to protect you and your family from irritants for years to come.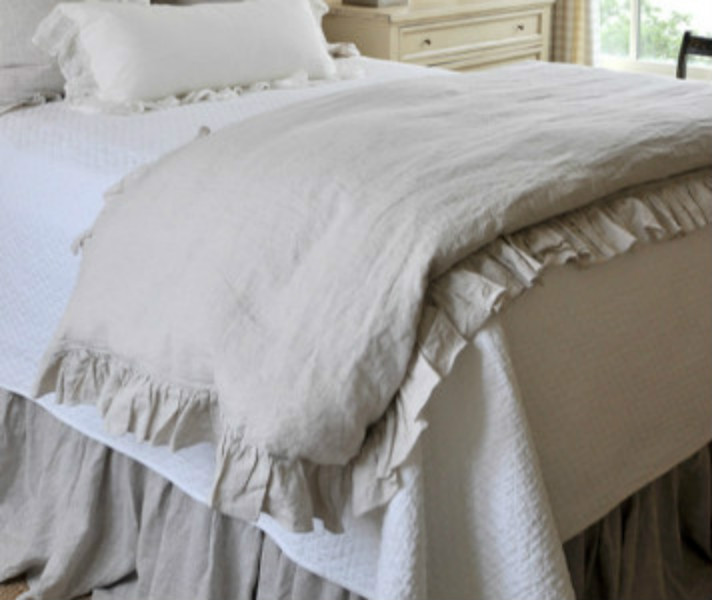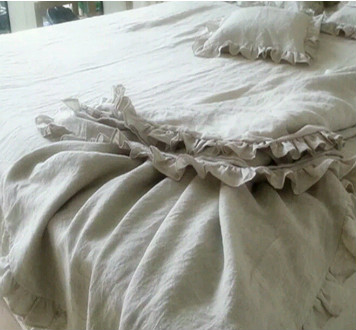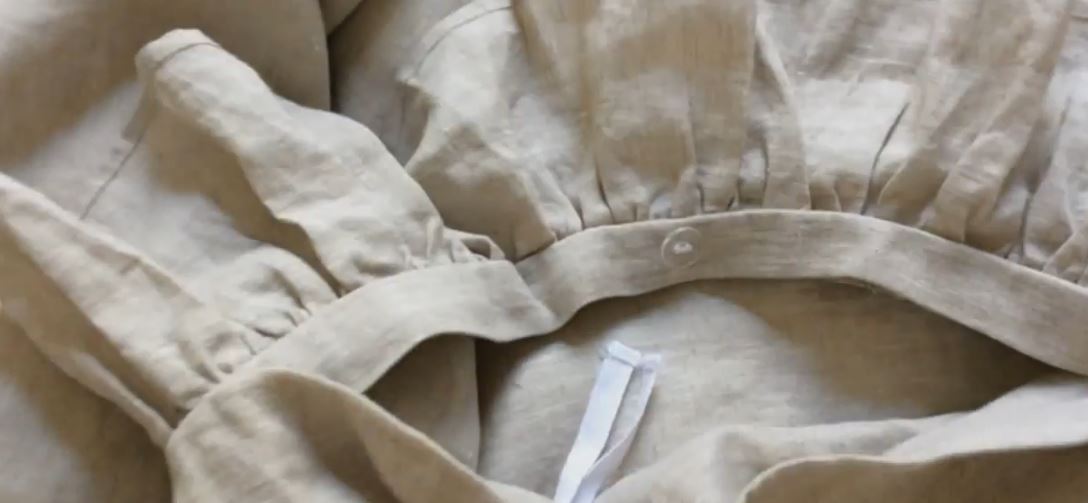 Duck Egg Blue Ruffle Duvet Cover
For those of you who may never have seen a duck egg, it is the most delicate blue found in nature. When you incorporate our duck-egg blue natural linen into your decorating scheme, it gives tribute to everything new and emerging. Incredibly soft yet strong and enduring, our Duck Egg Blue Ruffle Duvet Cover will gently remind you of new beginnings and bring you fresh insights after a night of exquisite rest.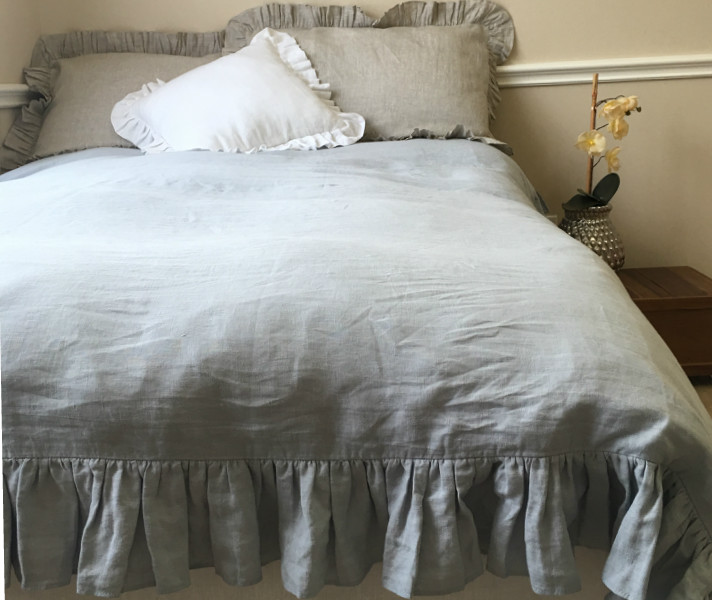 Black and White Striped Duvet Cover with Ruffle Hem
This classic look is reminiscent of time when life was less complicated and when there seemed to be more clarity in our everyday activities. For a no-nonsense look with a flirty touch of ruffles gracing the edges, nothing beats our black and white striped duvet cover for timeless serenity. Stitched by hand, durable, and machine-washable, it adds ageless distinction to every bedroom decor.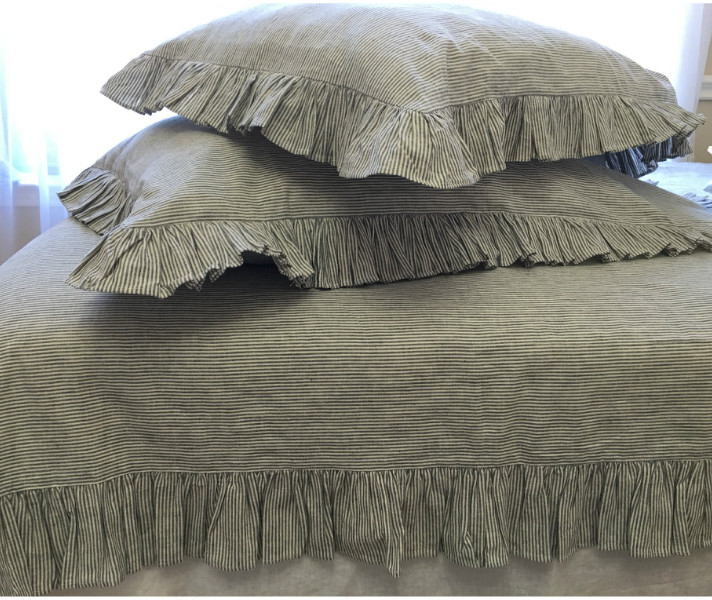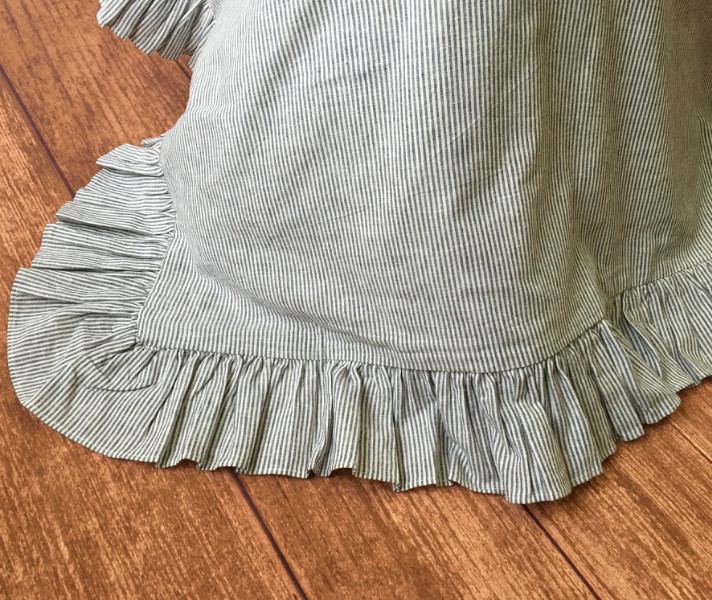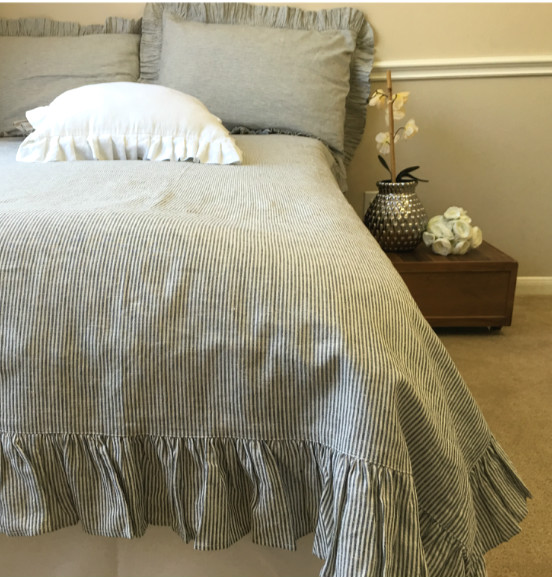 All of our linen beddings are handmade one piece at a time, impeccable finishing and sewing techniques, superb craftmahship. We pack them just before shipping, no more stacking in the warehouse for months.